Chicago Business Valuations
Certified Business Appraisals - (312) 453-9389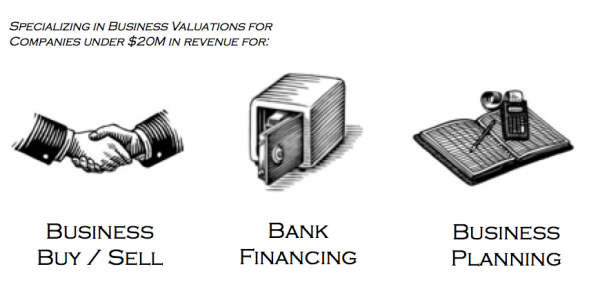 Are you in need of a business valuation? Our nationwide business valuation firm covers Chicago and is ready to serve your needs. Our Team of Professionals can provide Chicago business valuations for needs such as:
Mergers & Acquisitions

Buy / Sell Agreements

Purchase or Sale of Ownership Interest

Bank Financing

Business Planning
Not Just Math…Real-World Transaction Experience Behind the Numbers
Our company started in 2003 as an advisory firm to small business owners to assist in the confidential sale of their businesses. After expanding the company to three cities in three states and representing hundreds of business owners in the sale of their companies, we recognized that the difference between success and failure centered on a quality business valuation.
Owners that had an accurate understanding of the value of their company were able to plan and make decisions on reality versus using misunderstood revenue and profit multiples. We learned that business owners with credible information to substantiate value were able to plan for their business exit as well as have a useful tool in their negotiations.
We made a strategic decision to transform our company from strictly a transaction advisory firm to a business valuation firm to reach a much wider market, both in geography and in scope. Though we don't sell companies any longer, our roots are those that understand the reality of the marketplace.
Our business valuation process is simple.
Step 1: Initial Phone or Email Consultation: We will discuss your industry, why your valuation is needed, and the size of your company.
Step 2: Project Quote: Based on the initial consultation, we will prepare a quote for the business appraisal project.
Step 3: Engagement Agreement: If you would like to proceed, we will send over the engagement agreement. You will need to return the agreement to us along with the full payment for the business valuation.
Step 4: Data Gathering: You will complete our business questionnaire and send us 3 to 5 years of corporate tax returns or financial statements.
Step 5: Valuation Analysis: We will take the answers from the questionnaire and analyze the provided company financial statements.
Step 6: Valuation Report and Discussion: We will email you a PDF copy of the valuation report. We will also schedule a phone call to discuss the results, if you desire.
If you need a Chicago business valuation, give us a call today at (312) 453-9389 for a no-cost phone consultation.
Chicago Business Valuations: Email or Call (312) 453-9389