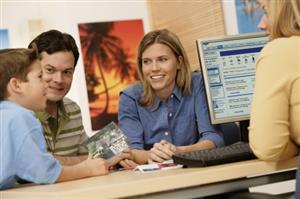 There are some strong benefits to buying a franchise business. Your company automatically has name recognition with the national chain, some amount of marketing is already happening and you have support from other businesses like yours around the region or country. However, business franchise appraisal can have some significant differences compared to regular companies, which can impact the process of having your company appraised. Here's a solid look at what is typically involved in the process of franchise business valuation.
What's Involved in the Business Franchise Appraisal Process?
Business appraisal looks at a variety of information about a business to determine value. Generally speaking, this includes a solid look at your company's finances, its market share, the goodwill it holds in the community or industry, its reputation for innovation, your brand value and several other characteristics that make up the value of the company as a whole. However, a franchise splits many of these aspects with a national brand, making it difficult to determine what portion of the company's value belongs to the company itself versus that which is part of the national brand. This creates a number of issues with the process of appraising a franchise.
The first unique issue that is often come across in the process of appraising a franchise is the franchise agreement itself. These agreements can include or disallow a wide range of products, services, branding and materials that can either boost your business or leave you working on your own. This can have a strong impact on your company's overall value and must be carefully considered. How high is your royalty and advertising allowance?
The assignment of particular regions for a franchise must also be taken into account. Do you still have room for growth in your allotted region or is your market saturated? If there's room for growth, you can grow your overall company value by reaching out into new areas that you may not have tapped before. If there isn't, you'll need to explore new markets and sectors to break into in order to achieve any significant growth with your company.
What about your rights to sell your franchise? Some franchises are very tight in disallowing the sale of a franchise business to a third party in any fashion. In other circumstances, you may need to get franchise approval before making a sale, whether it's to vet the incoming owner or simply control the market more tightly. That doesn't mean you can't have a valuation performed in the event of a partnership or marital dissolution, making estate plans, dealing with tax agencies or similar circumstances. It does, however, create some unique circumstances that must be taken into account in the process.
Your franchise business is unique, but its approach to the market requires some special steps be taken in the valuation process. Though business franchise appraisal can seem like a complicated process, it actually has a set of logical calculations to come up with an accurate value for your company. However, this process is best completed by a certified business valuation specialist who has had the training to understand the fine nuances that can mean the difference in thousands of dollars of value for your company. Be sure to ask about your appraiser's qualifications prior to hiring them for the process to ensure your investment is well-spent and provides quality results.