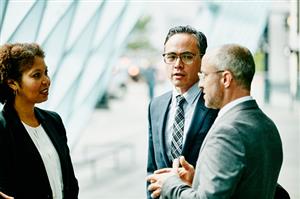 While there are rules and regulations regarding business appraisals, there is a degree of subjectivity involved in taking a company valuation. Each appraiser reviews the data and puts it together to portray the overall value of a business. To ensure that your business appraisal really reflects the worth of your company, you need to find an appraiser who understands the trends in your industry. Here's how to make sure that you pick the right business valuation consultant for an appraisal.
Review the professional expertise of the individual
There is a fine line in business appraisals: You want to hire a business valuation specialist who has relevant industry experience, but not at the expense of experience in appraisals. Review the professional experience of any appraiser and ask to see a list or appraisals they have done by industry. When considering a business valuation firm, check what specialties other appraisers in the firm have. Even if you are working with one appraiser from a given firm, he or she may run questions by colleagues. It is in your best interest to make sure that all parties at a consulting firm have the appropriate experience.
Ask about methodology
In a worst case scenario, an appraiser could mis-apply a rule of thumb from one industry (such as a law firm) to another (an engineering firm). This could result in a valuation that is over- or under-inflated. When you ask an appraiser about their methodology, listen to what they say and how they say it. An appraiser should be able to explain what methodology they will use and tell you what a particular term means in plain English. If an appraiser cannot articulate how they will appraise your company, do not hire them.
Check for credentials
Before you hire an appraiser, it is worth checking to make sure that they have credentials that show expertise. Any appraiser you hire for a business appraisal should have a professional credential from an industry organization such as the National Association of Certified Valuators and Analysts or the American Society of Appraisers. These credentials demonstrate that an appraiser has the proper knowledge to take the valuation of a company, and takes continuing education courses to maintain professional relevancy. If you hire an appraiser who does not have these credentials, then you risk getting a business appraisal that uses incorrect methodology and does not accurately show company value.
Whether you are seeking an appraisal in the hopes of buying a company or selling a business, establishing a credible fair value is in everyone's best interests. Since a business appraisal can affect the value of your company on the market, and thus the amount you will make in a sale or merger, it is important to spend time selecting the right fit person to perform the appraisal. Time spent interviewing potential candidates, and selecting the right person, results in confidence in their professional credentials and in the ensuing appraisal. This is not a decision to rush through. Since the appraiser should be involved early on, so as to have enough time for decision making, start looking for a qualified business appraiser before offers are on the table.
To learn more about our services, or to schedule an appraisal, we invite you to contact us.