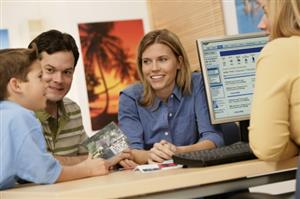 Where are the jobs today? The American economy has evolved over the years. Two hundred years ago, you might have worked on the family farm. Fifty years ago, you could get a high-paying job building cars at General Motors. Today, the overwhelming number of jobs are found in service-providing industries.
According to the U.S. Department of Labor's Bureau of Labor Statistics, roughly 80% (120 million+) of all jobs are in service-providing industries. Transportation, wholesale, and retail trade businesses provide services. Finance, insurance, real estate, health care, and hospitality are all service-providing industries. Almost all of the companies you do business with are most likely to provide a service. Valuing a company that provides a service requires a business appraisal that digs deep into all of the aspects that translates into value to the company.
Business Valuations for Service Companies
The hotel industry is a classic illustration of a service-providing industry. A hotel that has a reputation for consistently delivering outstanding service will attract repeat business. Satisfied guests will post pictures and share their positive experience through social media, which can lead to new business. Although you can not compare the level of service (or the room price) of a luxury hotel to a budget hotel, an appraiser can note the level of service between hotels in the same category of service. Following are some of the variables used to do a company valuation of a hotel.
Real Estate Value - The building and the land
Value of the Contents - Furnishings and contents inside the building
Competition - Number of other hotels in the area
Technology - Computer system. Website. Ability to collect and manage data and market to customers
Cost Saving Measures - Energy efficient air conditioners, "green" savings, favorable leases.
Analysis of Key Performance Ratios - Revenue Per Available Room, Occupancy Rate, Average Daily Rate
Many small service-oriented businesses do not own buildings or have expensive equipment that can be valued. While a beauty salon may have a few chairs, its value lies in the clientele it is able to attract. A bicycle messenger service business in New York City does not have any major physical assets other than some bicycles. The valuation of a company that delivers documents and small packages on bicycles is mostly based on the number of contacts and contracts it has. Let's take a quick look at how a business valuation for a small travel agency might be done.
Valuing a Company that Provides Travel Services
A business appraisal of a travel agency might start with the years it has been in business and its history of sales and profits. An appraiser would look at the number of corporate or large clients the agency had and if it had any special relationships with hotels, cruise lines or other travel partners. A valuable asset for any travel agency is a long-term contract with a major corporation to handle travel arrangements for all of its employees. Sales can be expanded and value can be added by having both a physical location and on online presence.
Business Appraisals are a Professional's Analysis of Value
Valuing a company in a service-providing industry can be useful whether you want to buy or sell a company. Business appraisals are used to determine value in legal disputes, when partnerships are dissolved, to determine the value of an estate, and a number of other scenarios. When you want or need to know the valuation of a company, with a high degree of certainty, it is wise to get a professional business appraisal.