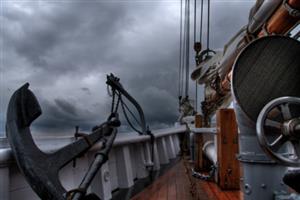 After years of burning the midnight oil and foregoing family vacations, the time has finally come when you need to know how to value your company, but beware, there are dangerous waters ahead! Selling a business requires special expertise that may not be in your wheel house.
Running a Business like Steering a Ship through Troubled Waters
As the owner of a small or mid-sized business, you face many challenges and have weathered many storms throughout the life of your business. If you started the business, just surviving the first couple of years was a bit or a miracle of its own. You often feel like the caption of a ship traveling through troubled waters. When you are bailing water, it's hard to even think about how to value your company.
Avoid These Common Mistakes
A 2010 Entrepreneur Article includes these commons mistakes that business owners make when deciding to sell their business.
Insufficient Preparation
Unwillingness to leverage professionals*
Taking a hands-off approach
Failure to Pre-Qualify Buyers
Pricing Problems
*You probably realize that business valuation is not an easy task, but like many business owners, you resist bringing in professionals. Just like you hire an attorney for legal matters and rely on your CPA for financial issues, determining how to value your company is a job for experts in their field.
Business Owners Not Trained to Sell Their Business
As business valuation specialists, we deal with these issues every day and can help you establish the best and most realistic value for the business. We can assist you on the rules of engagement if you are selling your business. You may be an expert at running your business, but you probably are not the best person to decide how to value your company.
How to Value Your Company - The Approaches
There are three primary approaches appraisers use in determining how to value your company:
Asset Approach
This approach is based on the premise that a buyer will not pay more for your business than they would pay for a comparable business. Company assets and liabilities reflect the book value of the business as it exists right now. It is a Balance Sheet approach (or adjusted Fair Market Value approach) to business valuation.
Income Approach
This is a "future value" approach that considers the value of potential future income based on current and past revenues. Appraisers use industry accepted formulas like Discounted Cash Flow to forecast future earning of the business.
Market Approach
The market business valuation approach is similar to the appraisal strategy used by Realtors and banks to establish property values. Appraisers develop Comparative Lists of sold companies in the same industry. Again, there are industry accepted methods including the Guideline Public Company Method, Guideline Company Transactions Method, and the Gross Revenue Multiple Method.
Business Valuation Specialists
Business Valuation Specialists, LLC has been advising and assisting medium sized business owners across the country with business valuations and business appraisals since 2003. Many of our appraisers have the Certified Valuation Analyst (CVA) designation through the National Association of Certified Valuators and Analysts (NACVA).
We pride ourselves on our "real-world knowledge." We certainly understand and apply all the formal approaches and strategies, but we also know what it's like to work in the trenches. We are not afraid to dig in and find the hidden values of a business that others might miss.
For example, if you are a manufacturer, you likely have a knowledge base of proprietary information about certain processes that have a value far behind just the software you created. Everything you do to make a product has value and needs to be properly valued. If you are a distributor, your customers and your intimate knowledge of their specific product requirements also has value. We'll work to find and establish how to value your company.