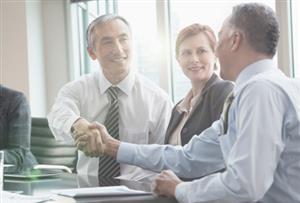 What's your purpose for a company valuation? The answer depends on who you are and what interest you represent. Business owners, investors, business partners, executors of estates, and attorneys, are just some of the people who may need business valuations. While there are probably several dozen situations one could think of where it would be beneficial to get a business appraisal, these are a few of the most common reasons.
Selling a Company
A small business owner may decide to sell his or her company. A mid-sized company may decide to focus on its core business and divest an ancillary division of the company. Whether you are selling the entire business, or just a portion of it, a business valuation, done by a business valuation specialist, can provide an informed estimate of the company's value. A company valuation usually provides a range of value and not a specific dollar amount of the business's worth. A seller can do a better job of negotiating price when the value of the company is known.
Merging with Another Company
Companies join forces to create economies of scale, expand the scope of their individual businesses, and to gain a competitive advantage over the competition. Terms of the merger agreement are quite detailed. They typically include, among other things, how assets and liabilities are to be treated and how shares of stock in the newly formed company are to be apportioned. Each company must be valued to determine an "exchange rate" and facilitate the merger.
Acquisition of a Company
When an existing business is acquired, it is usually not acquired in pieces. The financial transaction usually involves a single payment for all of the assets of the business. For accounting purposes (assets are categorized on the balance sheet), and also to comply with IRS rules, each type of asset, both tangible and intangible, needs to be separated and valued.
Under IRC Code §338, a corporation that acquires controlling interest of another corporation may elect to treat the stock purchase as an asset purchase.
Under IRC Code §1060 when assets are transferred, whether the purchaser is a corporation or not, the basis of the assets purchased must be classified
Buy-Sell Agreements
Partners in a closely held business sign buy-sell agreements in order to avoid any misunderstanding or legal issues that may arise concerning the disposition of a partner's interest when that individual departs the business or dies. The buy-sell agreement outlines the method to be used in determining the value of the business. No matter what the stated valuation method may be, it is prudent to have the business valuation done by an unbiased and objective business valuation specialist.
Estate, Gift and Income Taxes
An owner or a person who has an interest in a closely held business may want to transfer their interest at some point during their lifetime, or leave it to their chosen beneficiaries upon their death. When assets are transferred, it can trigger estate, gift and income tax liability. The valuation of a company allows you to plan for the most efficient way to transfer a business's assets so you do not place an undue tax burden on the recipients of your generosity.
Litigation Support
Businesses are easy targets for lawsuits. Unhappy shareholders can bring an action in court based on a belief that management is pursuing policies that diminish the value of a company. Business appraisals may need to be done to establish a company's value in partner disputes, divorce proceedings or wrongful death and personal injury cases. A company valuation specialist may be called into court to testify as an expert in business valuations.