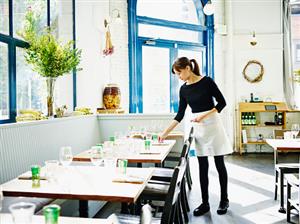 When it comes to getting a business valuation, there are several ways that restaurants differ from other businesses. Learn what it means to perform a business valuation of a restaurant and what having a business appraisal done can do for you.
Appraisers usually look at the assets, income, and market value of a business when determining how much it is worth. The same is true when it comes to how to value a restaurant.
The asset approach looks at the restaurant's assets and liabilities. In an asset-based approach, an appraiser would adjust the balance sheet which includes assets such as furniture, fixtures, and equipment to fair market value. An asset approach focuses on the value at a specific date of time.
An income-based approach focuses on the restaurant's profits and expenses, using the discounted cash flow or the capitalization of earnings method. If the restaurant's growth and income have been reliably stable in the recent past, capitalization can be useful to determine an estimated future value. The discounted cash flow company valuation method works well for restaurant valuation when profits vary over time. By estimating the current value of future benefits the owner would accrue, this method aims to put a price on the restaurant's value in the present while accounting for variables of risk.
Finally, the market value approach looks at similar restaurants to see how they are performing. Databases exists to where the appraiser can pull comparable restaurant sales.
A valuation firm will select from income, asset, and market approaches to determine the best way to value a restaurant. Any appraiser should be able to explain in plain English which method they are using to perform the valuation of a company and why they have chosen that method.
Why You Should Have Restaurant Business Appraisals
There are many reasons that you might choose to have a company valuation performed for a restaurant. Common reasons for getting this type of business appraisal include:
Splitting up (or adding) a partnership
Merging
Selling the restaurant
Planning to buy a restaurant
Business owner wants a company valuation to determine how to grow the business
No matter your reason for wanting to know how much your restaurant is worth by getting a business appraisal, you should take the time to select a company valuation firm that has experience appraising restaurants in your area. This way, you can trust the advice from the business appraiser and act upon it.
Would you like to learn more about restaurant valuation, or discuss what to expect when having the valuation of a company performed by a valuation firm? If so then please contact us.