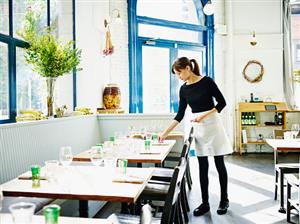 When you work in a food service business, it's easy to get caught up in the daily grind of food procurement, recipes, customer service and improving profitability. But part of operating a successful business is knowing its value, which is why an appraisal of a food services business can provide you with not only the value of your business, but also information on how to improve that value, whether through improvements in your operation to reduce costs, changes in the demographics that you're marketing to or ways to make your business stand out from the crowd. Here's a quick look at what happens during the process of appraising a food service business.
What happens during an appraisal of a food services business?
When you contact a business valuation specialist, they'll start by asking you some basic information about your business. This can include some basic information about your business finances, your competition, your operation and the region you operate in. They'll ask you to forward some other information, such as financial statements, and will look over those documents to determine where your company stands financially and how accurate those statements are in regard to your company's actual value.
Once they've had a chance to go over the documents, they may ask you about specific transactions or contracts. This is to help them determine why your income or expenses may have changed at various times. For example, if you had a large, one-time contract that may not have been representative of your usual income, it will impact your projected income into the future, one of the ways to determine business value. In the same manner, your business value may be skewed if you've had unusual expenses, such as replacing expensive equipment following a fire or a theft.
After the appraiser has had the opportunity to study your financial documents, he or she may recommend that adjusted statements be prepared to better reflect those unusual transactions and provide a more accurate value of your business. They'll take a look at what assets you have, what kind of market share you hold, your expected future growth, how innovative your business is, what kind of products or services you're providing to your customers and similar areas of interest.
The appraiser may also look at similar businesses that have been sold recently. They can take a look at a similar business for which financial data is available, such as income, receipts or other transactional information. Once that information has been found, the appraiser will adjust it to reflect the reality of your business' situation to determine what your food services business' fair market value may be. Whatever process the appraiser uses to determine your company's value, they'll use a tested methodology to complete the process and provide you with a business valuation report.
The process of calculating the appraisal of food services business is a complex process, which uses a range of tested methodologies that stand up well in a wide range of real-world situations. That's why it's important to make sure that you only use an accredited business valuation specialist who has experience in your industry and has no stake in the outcome of the valuation. By taking the time to work with a business appraiser, you'll gain vital insights into your company's operation, its position in the market and its overall value.