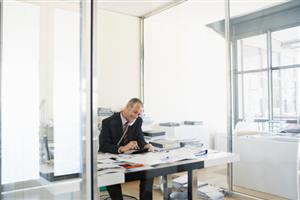 If you've been looking into changes in your business, whether a sale, merger or other major event, a valuation company may have been recommended as part of the process. But what are business valuations, how will a business appraisal professional help with the process and how does valuation of a company even tie into your business' change? Here are some answers to commonly asked questions about business valuation.
What is company valuation?
Company valuations looks at a number of different factors to determine a company's value, using approaches that are aimed at liquidation, future sales or similar properties. Though you may be familiar with the appraisal of a single item, such as a car or home, a business appraisal looks at the whole picture to determine the appropriate value for that particular situation. The term valuation and appraisal is used interchangeably by appraisers.
Why should I have a business appraisal performed?
If you're considering selling your business, retiring, handing it to the next generation or making a merger, having a company valuation performed is a good idea. It helps you determine the value of the company to back up the asking price, to provide documentation for tax purposes, to help gain financing by documenting the company's value or for many other reasons.
What does a valuation company do?
A valuation company specializes in determining the value of a business depending on the circumstances for the appraisal. Because appraisers deal with these types of issues on a daily basis, they are well qualified to determine what a company is worth based on a wide range of information, from operations to financials. Instead of looking at individual data points, a valuation appraiser looks at the big picture, including details that increase or decrease risk. It will consider how long it has been in business, potential future earnings, return on investment for possible buyers, estimated asset values, current market demand and many other factors. By weighing these factors, the appraiser will determine a value based on your situation. For example, a business going through a merger will have a very different appraisal performed than one that is being liquidated to pay creditors in a bankruptcy.
What should I look for in a good valuation company?
Though there are many companies out there that claim to do business valuation, there are some specific things you should look for when hiring a valuation company. You'll want to ensure that their appraisers are certified by one of four organizations: the American Society of Appraisers (ASA), the American Institute of Certified Public Accountants (AICPA), the National Association of Business Certified Valuation Analysts (NACVA) or the Institute of Business Appraisers (IBA). Unfortunately, appraisals completed by appraisers who are not certified by one of these organizations may not be accepted by certain organizations or agencies, especially for legal or financial purposes. You'll also want to make sure their appraisers specialize in business appraisal, which takes into account many different aspects not considered by other appraisers.
Now that you know how valuation companies work, isn't it time to get your business appraised? Knowing where you stand is the first step in creating new options and opportunities for your business and your life.