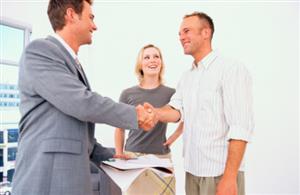 When you're buying a business, it can seem like there are so many things you need to take care of! Financing, business licenses, legal changes, learning how the business has been run in the past - it all adds up to a confusing process. Here's our breakdown on the steps you need to take to successfully buy a business that will be a great investment.
7 Steps to Buying a Business
What kind of business are you considering buying? You'll want to probably stick to something you have some experience in, as it will be much easier to maintain while learning the ropes. This should also include the business' size. If you've worked in a three-man plumbing operation for the past ten years, you're probably not ready to take on a 100-plumber, multi-location enterprise unless you're ready to spend some serious time on the learning curve.
What's your budget? For that matter, what shape is your credit in and what can you offer, if needed, for collateral? These aspects are very important when you're buying a business, because they determine exactly how much you can spend on your total investment. Make sure you include a cushion for unexpected expenses, and remember to be detailed in your assessment, including funds for a broker, closing or business valuations.
What area do you want to buy in? If you're looking for a very specific type of business, you may need to be flexible in what geographic location you want to live. Otherwise, this can be as vague as a general area of the country or as specific as a particular neighborhood of the city. Make sure you take a good look at cost of living, local wages and taxes so you know what you're getting into.
Start investigating businesses that fit your requirements, whether through a classified ad or a business broker in the area. Don't forget to investigate existing businesses that aren't currently for sale, as the owner may be willing to consider a good offer or may know other business owners in the area who are willing to sell but haven't listed their business yet.
Have a business appraisal performed on the company you're considering purchasing. A company valuation goes beyond just looking at the land and equipment value, it also considers the company's reputation and goodwill in the community, prospective income and similar areas of concern. The valuation of a company also gives you a solid point to negotiate from during the process.
Consider financing. You can look at debt financing, which involves getting a business loan. The Small Business Administration may be able to help in this case as they'll often guarantee a percentage of your loan for the lender, making it much easier to get the funds you need.
Transition. The transition period is when you're learning the ropes and can last anywhere from several weeks to six months or more, depending on the complexity of the business. Plan on leaving as much time free as possible from other obligations during this time period so you can focus on keeping the business rolling as you learn.
By following these steps, you can ensure that the business you're purchasing will be a good investment. A solid business valuation is one of the most important steps in determining a business' financial well being, but it's also one of the most commonly overlooked steps in the process. To get a quality business valuation, please contact us today. We're always happy to put our highly-qualified business appraisers to work for you.