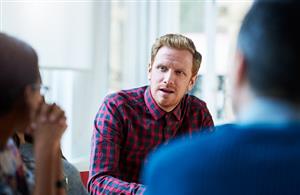 You're 51 and your employer of 15 years tells you that the company is going in another direction and your services are no longer needed. Suddenly, that six-figure salary you were receiving is gone. What are you going to do? Finding another well-paying job will not be easy and the thought of an extended job search is unappealing. Maybe you should make your own job and buy a business?
You're 28, full of energy, and ready to conquer the world. At work, you feel like a small fish in a big sea. One day you realize that this is not the life you want so you give your notice. Buying a business makes you the big fish and gives you the opportunity to control your own destiny.
Don't Make any Hasty Decisions
No matter what reason you have for wanting to buy a business, you should take your time before making an offer for an existing business. Ask yourself some questions.
Are you sure you want to be in business?
How much time are you willing/able to devote to running it?
Is the risk worth taking if it means giving up a high-paying job?
How will it affect your family?
The worst thing you can do is to get caught-up in the emotion and excitement of the moment and make a bad deal. To be sure you are not paying too high of a price, you should know the valuation of a company you are interested in purchasing. A business appraisal provides you with a good estimate of the company's fair market value. It serves as a reference point for making an initial offer. It makes it easier to negotiate a final sale price.
How are Business Appraisals Done?
A business appraisal starts with a conversation or communication with a business valuation specialist. It provides an opportunity for you to give some basic information about your company to the appraiser. The appraiser, in turn, will talk to you about the unique characteristics and trends in your company's industry. After the initial conversation, you should feel comfortable that the person you are talking to has the expertise and experience to qualify as a business valuation specialist.
The next step is to get a quote for your company valuation. The amount you are quoted is based on the things you discussed during your initial consultation. Among the things that can affect the amount of the quote are the size of your company, the detail of the appraisal, and the length of time it will take to complete the appraisal project.
Once you get the quote, you are under no obligation to have the appraisal done. You are not penalized for changing your mind. If you accept the quote and want to proceed, you will need to sign an engagement agreement and make full payment for the business appraisal.
The appraisal itself requires you to provide additional data. You will be asked to complete a business questionnaire and to submit several years of tax returns and/or financial statements. Most owners who are anxious to sell their businesses will provide the necessary documentation about their company so a company valuation can be done. If you express serious interest in buying a company, and the owner won't provide tax returns and other financial documentation, be suspicious. It may be an indication that the owner is asking more for the business than it is really worth.
Assuming that you are given access to the financial records of the company you are interested in buying, the data and information you provide is analyzed and a valuation report is generated. After receiving the valuation report, you can discuss the results with your business appraiser.