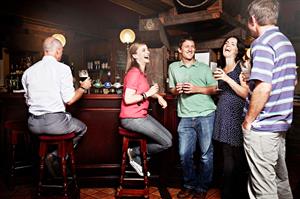 Your favorite uncle had no children of his own so he left all of his assets to his favorite niece and nephew. You knew he was a man of means, but you did not know just how wealthy he really was. When the will was read, he gave his 5,000 square foot house and his BMW to your sister and he gave you the neighborhood bar that he owned. Was he just "giving you the business" or giving you THE BUSINESS? How do you value a company that you inherit?
Inheriting a bar can be a blessing or it can be a curse. If the bar is operating on all cylinders, generating strong cash flow, and producing solid bottom-line profits, then your inheritance would be a blessing. If you have to bring in Jon Taffer of Bar Rescue because the bar is hemorrhaging money, your inheritance might be a curse.
The only way to find out the true worth of your inheritance is to have a business appraisal. A crowded bar might seem to be doing great, but outward appearances can be deceiving. If the bar is poorly managed and all of the bartenders are over-pouring to get bigger tips, profits of the business will suffer. You have to dig deep beneath the surface when doing a company valuation.
Whether it is a bar, a manufacturer, or any other type of business, you should get a business valuation from an accredited business appraiser. Business valuations determined by qualified business appraisers are the most accurate means of establishing the valuation of a company.
Present Value and Future Value
Business appraisals are given to represent the present value of a company, but they also can hint of the company's value in the future. Growth projections are often part of a company valuation. The present value would be the fair market value if the bar was sold today. The future value takes into the projected rate of growth from today until a point in the future when it may be sold.
Example: The owner of a bar has an option to buy the building next door, break-out the wall, and double the size of his bar. If that option is exercised, the bar can expand to include a dining area and some other revenue-enhancing features. A business appraisal could include a discounted future sales model to account for the projected growth (increased sales) of the bar.
Business Valuations are not an Exact Science
Business appraisals are educated opinions and not written in stone. Appraisers do not always use the same methods to value a business. Risk factors into the equation. A gun shop can face major liability claims or could be driven out of business by political decisions. An ice cream shop's value is dependent on its location and how much ice cream it sells. How do you value a company that has no sales but is in stage two testing of a promising new drug that might cure multiple sclerosis? An certified business appraiser will customize his appraisal to the type of business being appraised.
Checklist for Business Appraisals
While there is a good deal of customization involved when the valuation of a company is done, most appraisals follow an orderly checklist of items to examine.
Year the business started - established businesses are usually more valuable than new businesses
Is building owned or does business have a long-term, transferrable lease?
Value of machinery and equipment
Value of fixtures and furnishings
The books - assets, liabilities, sales, EBITDA, SDE, etc.
So, how do you value a company that you just inherited? You may feel it is more valuable than it really is because of your emotional ties to the person who left you your inheritance. For an unbiased opinion of the fair market of the company, get a certified business appraisal.