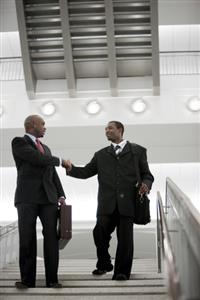 When you're running a business, having a business appraisal performed may not seem like something you need to worry about at the time. But what about when you're looking at a change of ownership, a merger or an acquisition? Business evaluation services can help you determine the exact valuation of a company to ensure that you make smart decisions during times of transition. Here's how business evaluation services help in each of these situations:
Changes in Ownership
Whether you're selling your business or transferring ownership to the next generation, business appraisals do a great job to help you know exactly what the company valuation is so you can come to the negotiating table prepared. Company owners who have quality business valuations performed prior to making changes in ownership tend to get more in their negotiations because they have the documented evidence of the company's full value.
Mergers and Acquisitions
Another place where having a quality company valuation comes in handy is during times when a company is either going through a merger or acquiring another company to expand. Because both sides in the deal are trying to get the best possible price, having a quality business valuation performed helps give you better price support during negotiations. In this particular situation, you may want to have a few different business appraisal methods so you know the range of values that can be used with a company. These can include:
Asset-based values look at the value of the company's assets. If your industry is currently in a buyer's market, you may have a hard time negotiating a higher price, especially if your company has not built a brand that conveys goodwill value with the merger or acquisition.
Income-based values take into consideration the future income of the company, often discounted to reflect that the current owner will no longer be waiting to receive that income but will instead receive it at the time of the merger or acquisition.
Market-based values are great if your industry is currently in a seller's market, because it bases the valuation of a company on current market conditions and recent sales.
Investment Opportunities
What about when you have the option to purchase additional equipment, facilities or other assets? If you don't know what your financial picture truly looks like, you won't know whether making the buy is a good idea or if it will leave your business in a risky situation. Don't depend on your tax accounting records, because machinery is often completely depreciated before it has reached the end of its usable life cycle. It's especially important to work with business evaluation services to have a proper company appraisal performed when you're considering financing options, because you may not otherwise be able to prove your company's true net worth unless you take into consideration the actual value of all your assets, not just the ones that have not been depreciated fully.
By keeping this knowledge in mind when your business is making a change, you'll be able to steer a successful course through the pitfalls and issues that plague business owners at that time. But what if you still have questions? As a professional, qualified firm, Business Valuation Specialists has seen countless companies through the issues you're facing now or in the future and can help you get through theses difficult times. Please contact us for more details or to schedule business valuation services for your company.